Last weekend I attended Armageddon pop culture expo. The lighting at conventions usually requires hi ISO and very fast lenses. This was no exception.
This picture of obi wan is not photoshopped. This is actually a forcefx light saber. Using rear sync with slow shutter allows the backround to come through, and makes the light saber glow. Rear sync freezes any blur in the foreground. This also worked for my photo of Gigi Edgley 🙂 I got a nice 8×10 print even though it was ISO 1600. too bad I didn't get a chance to get her autograph 🙁
The cosplay competition lighting was probably the most challenging I've encountered though I've only been to 3 other conventions.
I shot with my friend and mentor Neil. For Manifest we got to use light stands as the venue was bigger and there weren't cosplayers running around the stage.
With the ambient looking like ISO 3200 to get a reasonable shutter speed (not even spotlights!). With the nasty prospect of on camera flash looming, I had to think of something. Normally Neil does this but he was too bugged flying in from Sydney the night before 🙂
We clamped an sb28 at 1/8 85mm stage left to a wall partition and we taped another stage right on top of a speaker.
Neil stuck his flash on his camera and duct taped the cyber sync to his camera somehow, me doing the same. This would act as a key light, with the side flashes adding accents hopefully reducing the on camera flash look.
We also turned off motor drive and set for single shot (that sounds kinda cool) to conserve flash recycle time. This was pretty cool, as a few minutes in we learned to time our shots in between hearing the others shutter release!
Toward the end of the competition I was getting lazy, and didn't change lenses for the group shot. Neil already had his wide angle lens on, so I ran over and ripped the flash from the speaker and stood on a chair and pointed the flash at the stage. This was a panorama stitch.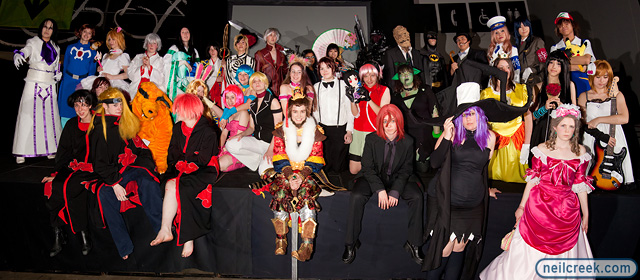 Overall, I think it all turned out ok. Keep in mind the ambient was practically unusable.
It wasn't the best lit photos we've taken, but much better than with just ambient or on camera flash. This was one of the shoots I enjoyed the most as we pushed ourselves to do the best we could with what the venue provided.
Please checkout other armageddon photos on Flickr, and Neil's gallery on Smug Mug !